Mission
Our mission is and continues to be to produce quality fruit, so that the whole world has access to the unique flavors generated in our land. We work hard to be the best at what we do and generate value throughout the entire production chain.
Vision
We want to be a Chilean company recognized throughout the entire world for its quality, delivery, innovation and dedication, through a sustainable business and building a better future for everyone, that makes a difference in people's lives, with quality fruit for a healthy life.
Values
At Geofrut we promote a culture that is eager to grow and improve to reach more and more customers around the world. We act with an innovation mentality and an adaptive approach, we know that each season of every fruit is different, and we are prepared to face changing climatic and environmental conditions, with the strength of a great team that drives us to build a better future and continue to deliver quality fruit. .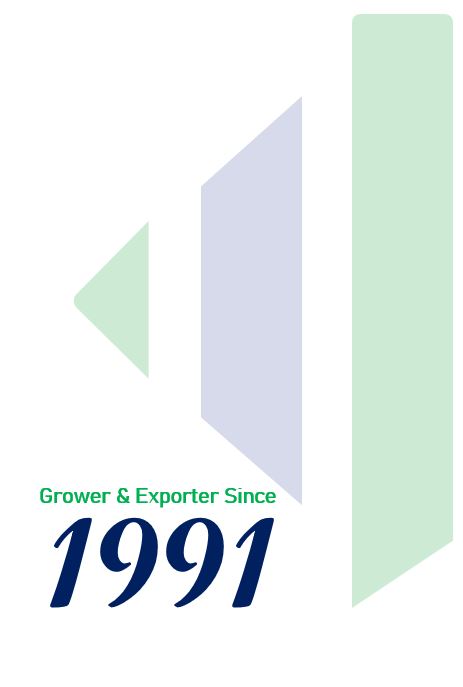 History
Geofrut was born in 1991, with the purpose of delivering fresh fruit to the entire world. Since then, it has grown enormously as a result of the great effort of all our collaborators and producers, who with their dedication and passion have positioned Geofrut as a leading company among the Chilean representatives of fresh fruit in the world.
Today, the company has more than 1000 hectares of its own and more than 180 associated producers, which together bring the best of our land to the worldwide consumer.
Timeline
1991
Constitution of
"Exportadora Geofrut Ltda"
The directive is headed by Cristian Echeverria and Andres Noguera Frias Roberts, founding partners.
1996
"Geoservice Ltda"
is created
The packaging and refrigeration services for the fruit exported by GEOFRUT are mainly carried out in this subsidiary, a company that has the technology and flexibility to respond to high international demands. Its main facilities are located in the heart of the most important agricultural production zone in the country (Rancagua, Sixth Region).
2003
A new field is acquired and "Agrícola Geoagro Ltda" is established
Reaching more than 400 hectares in production. From this new subsidiary, it allows the GEOFRUT group to have its own offer carried out with the highest production standards.
2014
Start of operations in Peru
In partnership with one of the largest grape producers, with more than 1000 productive hectares and 1 million exportable boxes from Peru.
2020
6,000,000 of exported boxes
In different markets of the world, where 1.4 million are just cherries.
Contact info

Geofrut Rancagua Offices
Longitudinal Sur km 78 Rancagua
+56-72 - 2977640
geoservice@geofrut.cl
Santiago Centeral Office
Av Santa Clara 301, Oficina 4804-4805, Ciudad Empresarial Huechuraba
+562 - 29297510
ccavada@geofrut.cl

Questions? Contact us
Lets keep in touch